The DragonScouts
Rachel "Tucker The Handsome Fucker"
Sallyann "The Duck"
Megan "Smeg"
"Amusingly Gay" Tom
Dylan "Judy's Bitch"
Andy "*cough*HITLER*cough*"
Lola "Showgirl"
Shanie.S "Lil Striped Tomato"
Cori "Herb"
Sian "Anfa"
Matt "Klassy"
and Steph....who doesn't have a nickname...
The DragonScouts are our unholy underlings! Mwa Ha HA!
Well, okay, they're just friends and crazy apprentices who we bribe and threaten with hot soup until they agree to join our cause. ie. DragonWatching. If you would like to be a DragonScout, please contact me at
sparkie_snaps_fingers@hotmail.com
Oh, go on, sign up. All you have to do is send me pictures of any dragons you may happen to encounter....Yeah, its a full time job.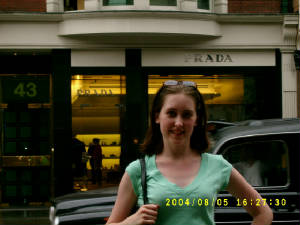 DragonScout Tucker outside Prada in London